Devex featured a story recently by Christine Dugay on the increasing role of emerging country donors. Among the new players are Brazil, Russia, India, and China, also known as the BRICs, whose global economic influence continues to grow. In addition to the BRICs, the United Nations Office for the Coordination of Humanitarian Affairs (UNOCHA) lists Saudi Arabia, Turkey, United Arab Emirates, Thailand, Mexico, and Kuwait to round out the top 10 emerging humanitarian aid donors in 2010.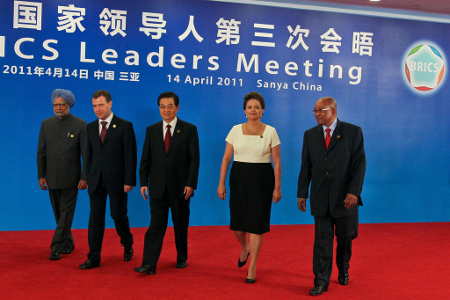 India's Manmohan Singh, Russia's Dmitry Medvedev, China's Hu Jintao, Brazil's Dilma Rousseff and South Africa's Jacob Zuma attend the BRICS leaders' meeting in Sanya, China. Photo by: Roberto Stuckert Filho / CC BY-NC-SA
These countries' support of multilateral aid initiatives, overall efficacy of their assistance programs, and size of their aid budget and spending (in some cases greater than certain DAC donors) have generated significant interest across the international development community. Excerpts below:
Benefitting from their own experiences with poverty and humanitarian crises, emerging donors have paid special attention to the basics of development and relief including food provisioning and large-scale disaster response. In 2010, emerging donors contributed $87.1 million to the U.N. World Food Programme (WFP) and $90.6 million to UN Emergency Response Funds (ERFs). To place that contribution in proper perspective, the United States, the largest donor of humanitarian aid in 2010 at about $4.9 billion, gave only $10 million through the U.N. Central Emergency Response Fund or CERF. Furthermore, India gave $500,000 to the CERF and $20 million to the Pakistan ERF while Saudi Arabia gave $50 million to the Haiti ERF.
Much of the emerging donor activity is being carried out under the banner of South-South Cooperation or SSC – a term first used in the 1970s to describe developing countries supporting other developing countries. The movement spawned the U.N. Special Unit for South-South Cooperation (SU/SSC), which aims to promote South-South trade and investment. Ultimately, however, it was China's potent regional response to the 2004 tsunami that brought the SSC concept back into the consciousness of the international development community. The benefits of horizontality, mutuality, and partnership among likened countries have since been re-promoted and the trend continues to spread.
Moreover, triangular developmental cooperation initiatives or developmental activities involving an emerging donor, a traditional/DAC donor, and a recipient country are gaining attention and some momentum such as the informal plans between the European Union, China, and African states. Read the full article here.