In a recent Guardian article by John Vidal, NGOs say the new World Bank Programme-for-Results Lending would allow countries to sidestep tough social and environmental safeguards that recipients of World Bank loans must normally meet.
An extract:
It's couched in 60 pages of near-incomprehensible economic-speak, but a radical World Bank plan (link here) to set up a new way to lend money to developing countries is being called a potential disaster for indigenous peoples, the environment and human rights. The proposal, called A New Instrument to Advance Development Effectiveness: Programme-for-Results Lending (P4R), would lend money according to results achieved by projects.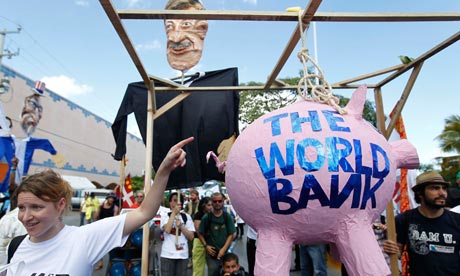 Photograph: Jorge Silva/Reuters
The proposal was published in February, and phase II consultations ended recently. Board approval is expected by the end of the year. Some of the NGOs that keep an eye on the bank's activities – International Rivers, Friends of the Earth US and Bank Information Centre – say the clear intention is to allow countries to sidestep dozens of tough, and expensive, social and environmental safeguards which recipients of World Bank loans must normally meet. Read full piece here.